Miło nam poinformować, że po raz kolejny HTS został laureatem rankingu Gazele Biznesu 2016 organizowanym przez dziennik Puls Biznesu.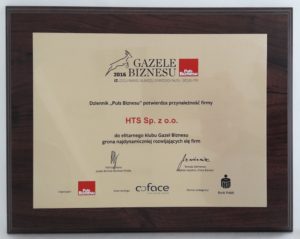 To już XVII edycja tego zestawienia, które prezentuje najbardziej dynamicznie rozwijające się firmy.
Gazela, w swoim założeniu to firma małej lub średniej wielkości, która dzięki niezwykle dynamicznemu rozwojowi doskonale daje sobie radę wśród nawet znacznie większych konkurentów. W tej edycji pod uwagę wzięto wyniki finansowe firm z lat 2013-2015. W zestawieniu mogła się znaleźć firma, która w tym okresie stale odnotowywała wzrost przychodów i ani razu nie odniosła straty finansowej.
Dziękujemy za współpracę naszym Klientom, Dostawcom i Pracownikom – bez Was nie byłoby tego wyróżnienia.