Zapraszamy na PIKNIK 22 czerwca 2017!
Czekamy na Państwa na ul. Boreckiej 4B w Warszawie w godz. 10-17.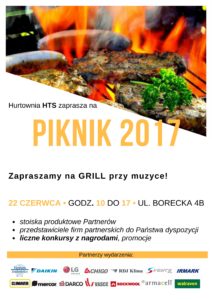 Będą z nami Partnerzy, którzy przygotują dla Państwa stoiska produktowe i liczne nagrody 🙂
W tym roku do Państwa dyspozycji są przedstawiciele firm:
– Armacell
– Chigo
– Climaver
– Daikin
– Darco
– Irmark
– LG
– Mercor
– RDJ Klima
– Rockwool
– Vasco
– Vents
– Venture Ind.
– Walraven

To doskonała okazja do rozmów z menedżerami produktów, spotkań biznesowych i towarzyskich, wygrania super nagród!
A to wszystko w luźnej atmosferze pikniku, na świeżym powietrzu, przy muzyce, grillu i napojach chłodzących.
Czy można lepiej rozpocząć LATO 2017? 🙂
Zapraszamy do wspólnej zabawy!
Obserwuj nas na