We are pleased to inform you, that once again, HTS has been awarded the Gazelles of Business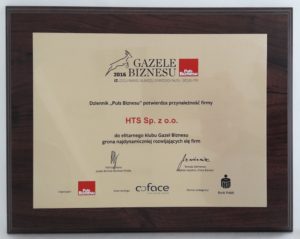 This is the seventeenth edition of this list, which presents the most dynamically developing companies.
Gazelle, in its assumption is a small or medium-sized company, which thanks to the extremely dynamic development is able to cope well with even much larger competitors. In this edition, the financial results of companies from 2013-2015 were taken into account. The list could include a company which in this period was constantly recording an increase in revenues and never once suffered a financial loss.
We are very grateful to our clients, suppliers and employees – without you, there wouldn't be any award.