Air handling unit with heat recovery, low profiled and lateral connection.

Östberg has introduced a new HERU 50 LP EC low profiled suspended ventilation unit, with a rotary heat exchanger and a maximum air volume of up to approx. 200 m3 / h. Intended for ventilation of single-family houses, offices and other rooms with strict requirements.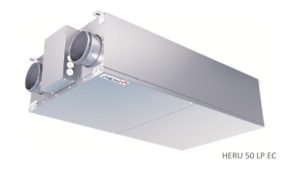 The units are characterized by high heat recovery of 82%, low energy consumption (SFP), low noise levels, high reliability and clean indoor air. The unit is controlled by a wireless remote control.
The HERU 50 LP EC control panel is on sale since September.