The first football tournament organized by our partner, the Venture Industries.

Yesterday evening (09/10/2017), in Warsaw at the PGE National Stadium, the first football tournament VENTURE versus the REST OF THE WORLD has taken place.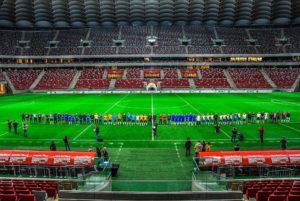 The previous day, on the same stadium the Polish national football team has played the qualification match for the World Cup. Over 70 players from companies cooperating with Venture Industries, took part in the tournament. Among the players was also our colleague, Mariusz Woźniak, representing HTS.
In the first VENTURE Tournament, against the rest of the world, The Venture Industries President's Cup and a set of gold medals were won by the Lindab team. Also on the podium there was: Comfortclima (silver) and Budwent (bronze). The most important thing in this tournament was fun. Everyone was a winner – both two teams which took part in the tournament received a Medal of the Tournament.
Winners and all competitors, especially Mariusz – congratulations!
We would like to thank Venture Industries for the invitation and great fun!
More pictures on Venture Ind. site here >>>